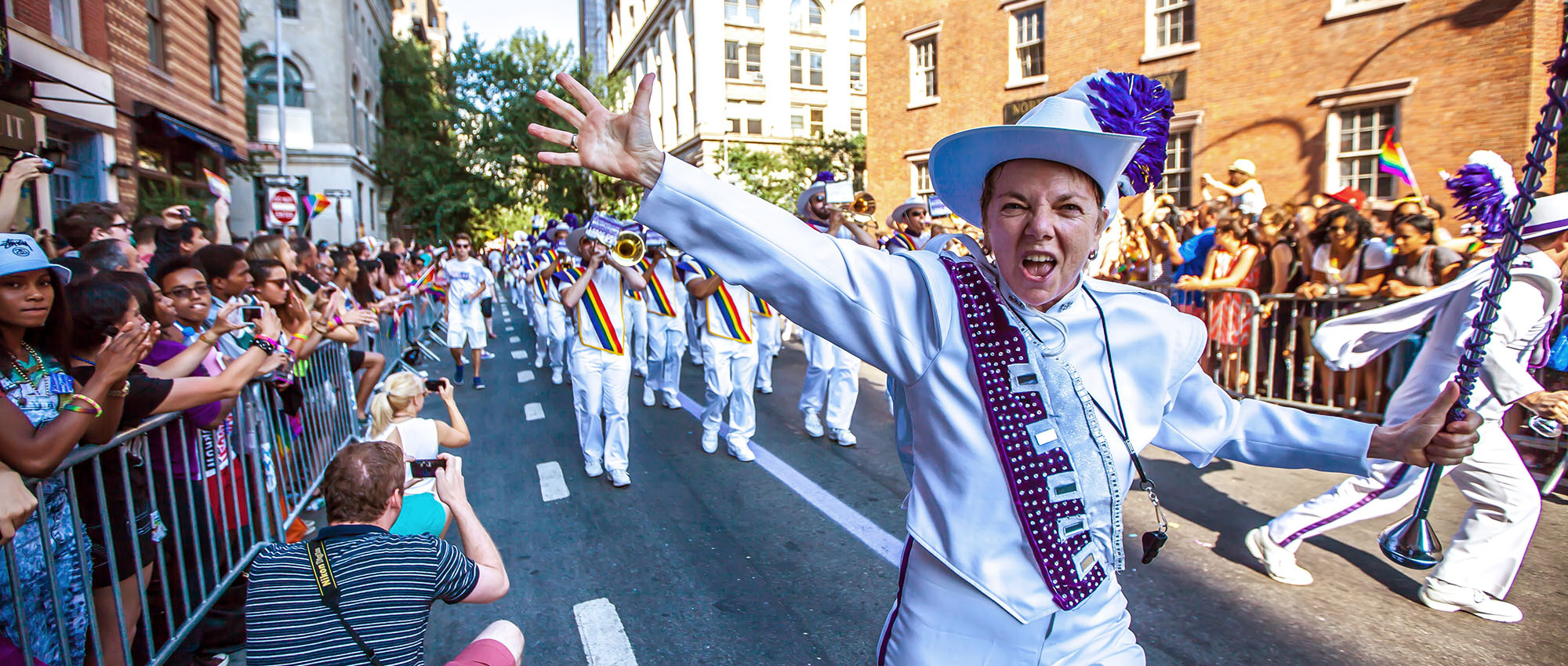 What we do
We strengthen the LGBTQ Movement by making smart, values-driven investments in dynamic organizations, projects, and leaders. And as a public foundation, we do so in close partnership with donors and the very people working on the front lines of progress. We fund over 100 nonprofits a year, in more than 30 issue areas. We also house seven scholarship programs, including the largest in the country created to support LGBTQ refugees and asylum seekers.
Our grantmaking is complemented by intensive capacity building and training programs that equip local leaders with the tools they need to be effective change agents. These include free consulting, coaching opportunities, and monthly workshops. In all we do—from planned giving to scholarships—our priority is making sure community dollars make a difference where they are needed most.
Our history
Against the tragic backdrop of the 1980s AIDS crisis, the tapestry of LGBTQ nonprofits was becoming more vibrant. In New York City, dozens of groups sprang up to address emergent issues and, with that, there was a growing need for resourcing. Our founders had a solution: creating a foundation, for us and by us, where loss could inspire legacy and the power of individual giving could be amplified.
Stonewall came to life in 1990 as a collection of donor funds, and as the local landscape evolved, so did our identity. We embraced a focus on small, grassroots nonprofits and populations experiencing the greatest vulnerability; we ramped up both our fundraising and grantmaking; and community participation was carefully threaded throughout our work.
Daniel Padnos, Board Member
"One of the most eye-opening experiences for me was joining the advisory committee of a Stonewall grants cycle... I finally and fully understood what our community could make possible, and what doing more with more could mean."
Agnes Navaratne, game changer
With help from a Stonewall scholarship, Agnes is pursuing a career in video game design, a multi-billion dollar industry dominated by men. Her hope is to inspire more queer women to pursue their passions and, especially, jobs in STEM.
TGNCNB Leaders
At Stonewall, we know that transgender, gender non-conforming, and non-binary leaders bring critical insight into the systems doing harm to our communities, as well as solutions that can yield the most positive and enduring results for us all.
NY Transgender Advocacy Group
At Stonewall, our strategy is to center those pushed to the margins of society and even our Movement in some cases. For TGNC people, we understand that this means we must prioritize opportunities to invest in their leadership and work.
Center for Anti-Violence Education
Stonewall's unwavering support has been instrumental in making CAE what it is today. Coming back from the brink of closure, CAE now has a staff of six and 30 instructors, reaching over 3,000 people and 70 nonprofits each year.
SQS & Generation Q
In 2007, a network of young donors at Stonewall pooled their resources to support Gen Q, a new program serving LGBTQ youth in Queens. A decade later, thanks to their resonant work and strong leadership, both groups are thriving.
Clara Yoon, fearless fundraiser
Clara enrolled in a grassroots fundraising training sponsored by Stonewall. In that program, she learned the fundamentals, got to sharpen her skills, and shed the last bit of fear she had around "the ask." Now she's unstoppable.
The Dad Fund, love in action
At the heart of the Fund is a network of dads, like Alex and Rosario, who, in addition to organizing play dates for their families, make monthly gifts to Stonewall. With their help, we have awarded over $22,000 to support LGBTQ youth.
Destination Tomorrow, a Bronx tale
Stonewall has been investing in Bronx-based organizing for decades, often taking the lead in funding emergent spaces for the LGBTQ community. In so doing, we have seen dreams for a thriving advocacy and service hub become a reality.